Recipes – Works For Me Wednesday.
Let me introduce you to one of my very best friends in my kitchen:
Now, not only do I just love looking at the sucker, but it's incredibly useful & handy in my kitchen. If you're purely into aesthetics, you might be able to buy your own from a Longaberger consultant, but mine is ages old, and I'm honestly not sure if the company is still selling this particular style of basket anymore. I can't recommend it highly enough, but I may be a bit biased, too. You see, I did sell Longaberger products for four years or so a long, long time ago. My house is bursting with baskets, and I just love the country charm they provide throughout my home! (Plus, this particular basket of mine is signed by "Mary Longaberger"!)
But if you're more interested in the usefulness of my Recipe Basket, then stay tuned. I want to tell you some of things I've done to further enhance my best tool in my own kitchen.
1) Get the bigger cards.
Traditionally, recipe cards were always the 3.5″x5" size. Then again, photos used to be printed that size, and now you'll have one *heck* of a time finding any developer to use that size (no matter how you beg!). As with most things, bigger is now better, and I find it is a blessing for recipes. I can leave a bit of space between ingredients and steps. Also, I feel that I don't have to squish things on a nice 4″x6″ recipe card, and by writing normally, I reduce my risk of hand-cramping while copying. In my book, that's win-win!
2) Alphabetize recipes.
Recipe cards usually come with a set of tabs for organizing, and these tabs can be arranged by dish type (entree/beverage, etc.) or alphabetically. I have a funny memory. For some things, my memory is mostly photographic (phone numbers I've called, for example), but I do find that I have trouble remembering specific amounts called for in recipes in such a way. I do, however, remember specific titles/names for recipes, and I file them alphabetically according to these. For example, it would drive me up the wall to flip through cards, looking for a jello salad under either "salads" or "desserts" when I can recall that the exact recipe in mind is "Cinnamon Apple Salad." Therefore, it is filed under the "CD" tab in my Recipe Basket.
Really, this is a point of personal preference, but if you are like me and remember specific recipe names, go for the alphabetical route!
3) Laminate recipes.
This is a recipe-saver, in my opinion. I laminate all my recipe cards before they are added to the Recipe Basket. I love that they are safe from water & egg drips, from buttery or greasy fingertips, or even the occasional schmear of spaghetti sauce. If anything drops onto my recipe card, I can just wipe it off. I've seen recipe sleeves a few times since I began laminating, but I'm happier with my "sealed" cards. I can't lie – a recipe or two has been dropped in a sinkful of water before (little hands are such great "helpers" in the kitchen, aren't they?!), and the lamination has saved an old favorite before it was ruined.
*Tip: If you have a teacher's supply store near you, chances are great that they offer laminating at a GREATLY reduced price than your local office supply store (OfficeMax, etc.) I usually laminate 15-20 recipes at a time, and it costs me around $4-5 for all of them. Another option to try might be your child's school. My kids' school will let me laminate things for 25 cents/inch on their large machine.
4) Include pictures, if possible.
I only write out recipe cards for those tried-and-true favorites. If I'm making a new recipe, I try to take a picture of the final result, and then I print and include that on the back of the card before I laminate the recipe. Sometimes, I get lucky and have a picture already (from a magazine, for example), but most of my favorite recipes come from family members or old church cookbooks with no pictures at all. It's a nice touch, and it allows me to tie-in my love of food photography with the actual cooking/baking process.
And that, my friends, works for me!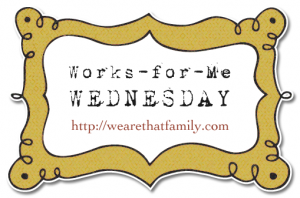 5 comments on "
Recipes – Works For Me Wednesday.

"
Pingback: My Favorite Things. . . Giveaway! | Life's a Batch
Leave a Reply