Daddy's Spice Rack – Works For Me Wednesday.
One of my New Year's resolutions is to "attempt" to participate in a weekly link-up. I had a particular one in mind – Works For Me Wednesday – hosted over on We Are That Family. Now, I know lots of folks that are giving the Project 365 (taking & posting at least one photo each day of the year) another go this year, but I guess I set my ambitions lower. After all, if I've got to pass the bar I've set this year again NEXT year, then it definitely needs to start out pretty low – this girl isn't into Olympic hurdles!
So, a weekly goal I have, and I'm sharing it with you!
We moved into this house one year ago in December. As an active-duty military family, we aren't given a lot of choice in housing or storage space, so you can imagine my THRILL and excitement over accepting a house with this beauty of a kitchen:
It was monstrous! I consider it to be a large kitchen anyhow, but you should also know that our last several housing kitchens have been what I call "hall kitchens" – a throughfare to other rooms in the house, and crammed with things that should really be elsewhere. One of my kitchens had our washer & dryer right in the middle of it, even! This house, however, has absolutely dreamy counter/bar space, as well as decent lighting. Heck, just having a window in the kitchen again helps so much for my mood!
But…
(You knew there was a "but," didn't you? Of course. If not for that, there wouldn't be a post. I swear, but isn't it funny how blogging is really about the "buts" in life?!)
But I only had the smallest cabinet available for my spices and seasonings. And cornstarch and cocoa. And syrups and cooking sprays, and oils and food colorings. Just finding my giant container of Morton's Salt could be a huge endeavor, much less the small, seldom-used items (celery seed, anyone?). I had already separated the two shelves into cooking/baking, but it just wasn't helping the way I needed, and I had to do something about it.
I called my Daddy.
Yes, I did. After all, I'm still his little girl, right? Right. And not only is he my dad, but he is also a master woodworker – a creative genius – in all things oak and pine (and maple, cherry, mahogany, etc.). I explained my predicament, and I begged him for a handmade birthday gift from him. He was happy to oblige, and he built me this exquisite beauty in cherry wood:
Isn't it just lovely? It's so very spacious, and it has more shelves than I dreamed! He even added pegs at the bottom – a welcome surprise! Not only that, but my dad never asked me for dimensions at all (and had never been to North Dakota, much less our new home!), yet he somehow managed to build something that so perfectly fits the entry wall to my kitchen!
Isn't it just incredible?! I know you are all nodding your heads up-and-down right now. *wink*
It's tough to see in the picture, but there is enough space on each shelf to display two of the smaller spice bottles in each space, one behind the other. The larger ones won't fit that way, but it helps for a smaller spice to be able to store the old jar in front of a new one when I'm getting close to finishing it off. Also, I can stack the itty-bitty spice jars at least three high on the shelves I'm using, but it would be even more on the higher, larger shelves. It truly does hold SO MUCH!
And that, my friends, works for me!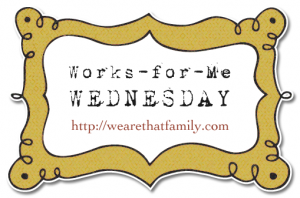 ---
Now, if you should like my daddy to build you your own Spice Rack of Awesomeness, just ask him. He lives in Virginia, and he has his own business in Custom Cabinetry. Contact me, and I'll send you his information!
3 comments on "
Daddy's Spice Rack – Works For Me Wednesday.

"
Leave a Reply