Apple Cake Awesomeness.
Does anyone else here watch the show Parenthood? Not the older movie, but the newer show on NBC? My husband and I have been big fans of the show since the beginning, and we anxiously awaited the start of Season 3 this fall.
Now, we're no fashion police. I'm not one to do spectacular things to my hair on a regular basis, but…
Serious biz, WHO planned the hairstyles for this season?!
Hattie (who has never been my fave, by the way) came back with a horrendous perm, including (as coined by my friend) "poodle bangs." And Amber returned with a sideways blond, spiked 'do, and I can't take anything she says seriously, even in her dramatic delivery of lines.
I suppose it's really just those two characters, but while we're on it, I'm not a fan of Quinn's new look on GLEE, either. In the world of awesomeness, these three hairdos are decidedly NOT.
*sigh*
However, I do have some "awesome" to share with you. 🙂
Apple Cake with Caramel Penuche Icing, with a Vanilla Drizzle.
Now, doesn't that get your lips to smacking?! My mother-in-law shared her recipe for Apple Cake with me over a dozen years ago, but I've never taken the time to make it before, and let me tell you this: Waiting so long was a serious mistake.
Two days ago, my friend Tifany announced that another friend had gifted her with fresh apples from her own tree, and she had far too many to use herself. I jumped at the chance to bake something yummy, and Nancy's recipe immediately came to mind. She has raved about it for years, and I knew I had the perfect chance. In fact, when I pulled out the recipe, I was happy to find I had all of the ingredients in my pantry already!
Starting with these gorgeous, juicy & firm apples:
Does anyone recognize the variety? They were marbled between spotty red & granny-smith green, and the flesh was firm and slightly tart. They were so, SO juicy! As I chopped wedged the apples, the juice kept splattering my hands & face!
Once again, my "helper" Jack was ready at hand. He handled all the tasks of making the cake itself, and I handled the icing. 🙂

Jack chops up the apple wedges into finely diced bits.
Macerate the diced apples in a heaping mound of sugar:
And while you give the apples some time, prepare the cake's base in your mixing bowl.
Blend until creamy & cinnamon-y. (Yes, it's a word. Look it up. 🙂 )
Fold in your beautifully-browned, syrupy apple bits.
And add your chopped walnuts, too.
Pour your luscious cake batter into a well-greased Bundt cake pan. In my case, I had to stop for a moment and marvel at this barely-used dish in my cupboards. Seriously, Bundt cakes are so awesome! Why don't I use this pan more?!
<< Insert picture of awesome, perfectly baked cake that turned out amazing, not ripping a tiny shred of the gorgeous Bundt shape. >>
And let's take one more look at that Apple Cake Awesomeness before I post the recipe:
Apple Cake
(recipe from my mother-in-law, Nancy Cleghorn)

4 cups chopped apples
2 cups sugar
1/2 cup vegetable oil
2 eggs
2 tsp. vanilla extract
1 tsp. baking soda
2 tsp. ground cinnamon
1 tsp. salt
2 cups all-purpose flour
1 cup chopped walnuts

Preheat oven to 350°. Peel apples, and chop finely. Add sugar to apples and stir to coat; set aside while you ready the rest of the ingredients.

In a mixing bowl, combine oil, eggs, vanilla, and beat until a tiny bit frothy. In a separate bowl, combine flour, baking soda, salt, and cinnamon.

Alternating, add additions of both flour and apples to the cake batter. Gently fold in chopped walnuts. Pour into a well-greased & floured Bundt cake pan.

Bake for 1 hour or until a toothpick inserted comes out clean & cake is "springy" to the touch. Cool in pan for 10 minutes on a wire rack; remove from pan & cool completely.
Now, you could stop RIGHT HERE and enjoy this perfect fall cake. You could, but you would be missing out on some awesomeness. And that's just not okay, right? Right. 🙂
'Cuz let me tell you, part of living is trying this Caramel Penuche Icing. If you don't try it, well… (I just don't even have words for you. *shakes head*)
But first, I probably ought to tell you how to make it, I suppose. 😉
You melt some butter:
And you bring it to a boil.
And then you add candy brown sugar, too.
Add a scant bit of milk as well:
Eventually, you end up with a silky, dark caramel sauce that looks like this:
And you add a bunch of powdered sugar to turn that syrup into icing.
It really is just so awesome how such simple ingredients add that special touch, isn't it? 🙂
Caramel Penuche Icing
(recipe from my mother-in-law, Nancy Cleghorn)

1/2 cup butter
1 cup brown sugar, firmly packed
1/4 cup milk
1-1/4 cups powdered sugar

In a small saucepan, melt butter; bring to a gentle boil. Add brown sugar, and return to a boil, stirring constantly. Boil for 2 minutes. Stir in milk, and return to a boil again. Remove from heat; cool for a few minutes. Beat in powdered sugar until spreading/drizzling consistency (whichever you prefer). Pour over cooled cake.
Now, if you're me, you have sweets on hand all the time. In this case, I had a bit of vanilla frosting tucked away in my fridge, so I put a 1/4 cup of it in a microwave-safe bowl & warmed it for 10 seconds, to the consistency of a runny drizzle. I laced it gently over the iced cake as well.
And that's the whole awesome package, baby. ♥
---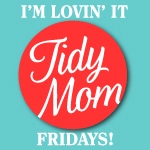 14 comments on "
Apple Cake Awesomeness.

"
Leave a Reply