Miss Ainsley & the Circus!
When Amy contacted me at the end of spring, asking for ideas for her baby's 1st birthday, all she knew was that she wanted something "hot pink and orange!" We tossed ideas back & forth for a few months, and she finally settled on a theme: "Modern Girly Circus."
Now you tell me – is this not the cutest, most original thing you've ever seen?!
Okay, maybe not THE cutest, as that award probably has to go to little Miss Ainsley herself. Look at this sweet picture her mama sent me so that I would know the special baby I was creating cookies for!
When the time came to make & decorate the cookies, Amy had modified her color choices to include "light pink" as well. I incorporated her three colors as much as possible, also including a bit of white here & there for distinction. She also wanted a few special lions & elephants, and I suggested some popcorn boxes to round out the collection.
But, of course, there are circus TENTS! 🙂
My little tent cookie cutter is quite small, so a tiny '1' was the perfect embellishment. I also think the addition of white really helped to pull the colors together.
And then there's the popcorn buckets! I love these larger cookies, and I'm very happy with how they turned out. A simple Wilton #7 tip helped to make all the little "kernels" with ease, too.
And then there were the animals – the adorable little lion and cute little elephant! I just couldn't get enough of these cookies, though the elephant is my very fave!
I found the two animal designs above over at Lil' Sugarpie on embroidered items. They were so perfect I had to recreate them in icing! I hand-cut these cookies, and it wasn't until after I had done so that I realized… hey, I already had TWO elephant and TWO lion cookie cutters in my stash! Whoops!
Rounding out the last of the collection were two more very special cookies:
Originally, Amy wanted oval cookies that said "Circus" on them. In the end, she switched to having "Ainsley," but done in a circus-y font. I tried my best to mimic the traditional font, and a KopyKake sure would've been a nice help at this point, but I worked with what I had!
Lastly, Amy chose a couple handful of swirly lollipop cookies for a whimsical touch. She wanted them in her three main colors, and I think they turned out so nice. This was only my second batch ever of lollipop cookies (I made the first set for the 4th of July!), but they are the absolute easiest cookies to create – especially using the awesome tutorial posted by Occasional Cookies! 🙂
And, as always, I included a special Thank-You cookie just for Amy, for her to enjoy before she serves the rest at little Ainsley's party this weekend.
I absolutely LOVED working with her, and I hope that the cookies are a big hit at the party! I love when customers have such GREAT original ideas! 🙂
---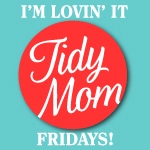 28 comments on "
Miss Ainsley & the Circus!

"
Pingback: Great Ideas | TidyMom

Pingback: Circus Birthday {Girl} | Carrie's Creations
Leave a Reply