Beater Blade: Works For Me Wednesday.
Royal icing can definitely have its secrets, and I certainly don't claim to know them all, nor have even mastered the ones I've learned. However, there's one simple trick that's really important when mixing royal icing that I can share:
BLEND. IT. WELL.
In the past, for me, that meant constantly stopping to swipe down the sides of the bowl with a spatula. It's an effective method, and I continued doing it because I didn't know there was a better alternative. However, on a stroll through Gourmet Chef, the gourmet kitchen shop in our local area, I saw this in the aisles:
The Beater Blade! (I swear, I heard angels singing as I gazed at it!)
At first, I shied away because of the price, and I came home empty-handed! However, my sweet husband remembered my desires, and for Mother's Day, he surprised me with my very own Beater Blade accessory. (Now that's a 'keeper,' folks – the man who buys kitchen tools for his wife!)
And I heard those same angels the first time I used it on my KitchenAid stand mixer. Truly, it is a miracle gadget! No more stopping to make sure the powdered sugar isn't sticking in clumps to the sides/bottom of the mixing bowl. It's perfect blending every time!
The Beater Blades come in lots of options, too. I have a 5-qt. tilt-head mixer, but there are options for all types of KitchenAid mixers out there, as well as at least a few options for Cuisinart mixers. There are fun models in pink and red, and bright models in funky yellow. There's even a SideSwipe model available for mixing batters with nuts or fruit!
I use my regular KitchenAid for mixing my batters and doughs, and then I switch to my Beater Blade to blend my royal icing. In fact, I keep one Beater Blade designated just for royal icing, in an effort really, really keep everything absolutely grease-free. I love the ease now in making my icing, and I certainly love the results!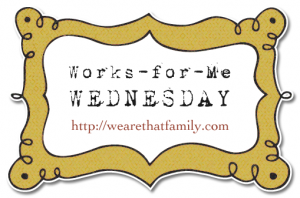 And that, my friends, works for me!
3 comments on "
Beater Blade: Works For Me Wednesday.

"
Pingback: Nicole's Sweet Butter St. Paddy's Day Sugar Cookies
Leave a Reply