Citrus Peeler – Works For Me Wednesday.
Let me introduce you to one of my most invaluable cookie tools: my citrus peeler.
You might already know that I don't roll out my dough on a floured surface. Sometimes I'll roll out on powdered sugar, but more often than not, I roll on waxed paper. When I do this, I place the sheets of cookie dough in the fridge to chill for a few minutes while I map out my cutting strategies for that particular dough.
After, say, ten minutes or so, I remove the dough from the fridge and cut away. Once the dough is cut, it's time to begin lifting the scraps away from the cut out shapes. Because the dough is chilled and stiff, trying to pick it apart with my hands usually results in torn shapes, etc.
Enter "Little Red Thing." (Yes, this is really what I call it when I'm talking to my husband. I swear it!)
Now, to be perfectly honest, I don't have a clue how I acquired this nifty kitchen tool. I already owned a citrus peeler, but THIS one is just a cut above it (ha!), having a very slim, flat end instead. However, in taking these photos, I learned that this one is made by Tupperware®. And here's the very best news: you can get your very own, and it is FREE!
(I had no idea it was even still offered until I searched for it to make this post!)
So… now that you've got one, let me show you how very simple they are to use, and how to work your magic!
Step 1: Gently slide the flat end under an edge of dough you want to remove.
Step 2: Lightly "lift" the dough to release its cling from the waxed paper.
Step 3: Slide the tool under the dough until it lifts away.
4. While your dough is lifted, simply grab the pieces and toss in a pile to re-roll.
That's it! So simple, yet so effective! This tool makes cutting-out a breeze for me, and once you get the hang of it, you'll just fly through the process. I've got a rhythm down now, a kind of groove, and I can usually piece an entire sheet of dough without lifting the citrus peeler from the waxed paper even once!
When you are done, you'll have a perfect set of cut-outs ready for immediate baking or more chilling (I like to pop my cut-outs in the freezer for a few minutes before baking them in the oven). Ta-da!
And that, my friends, works for me!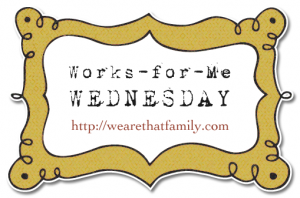 10 comments on "
Citrus Peeler – Works For Me Wednesday.

"
Pingback: Nicole's Sweet Butter St. Paddy's Day Sugar Cookies

Pingback: Frosting For the Cause: St. Paddy's Day Cookies. | Life's a Batch
Leave a Reply